product
General Dock acquired ISO 9001 Certification
CE Mark acquired (first in the industry)
MOBILE DOCK
>
mobile dock
>
2-Way Mobile Dock
2-Way Mobile Dock
Separable Type
Same as One-Body type.
Refer to separable mobile dock's characteristics

Mobile Type

Separable assembled Type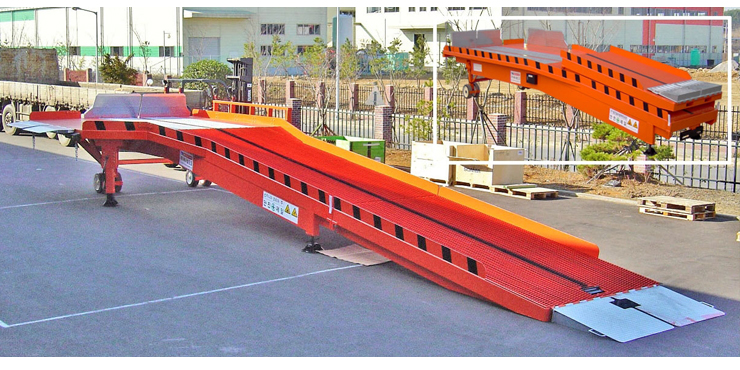 Appearance drawings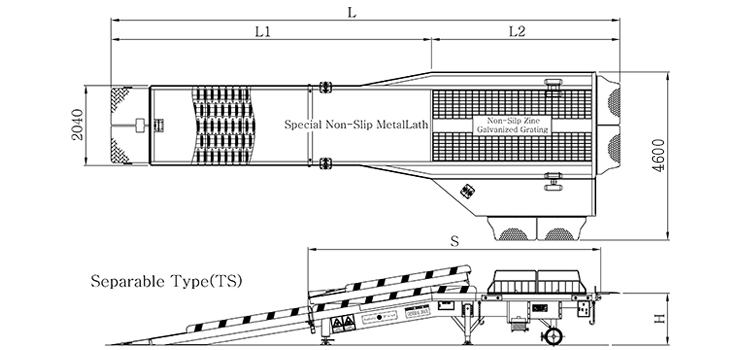 CRITERIA / MODEL
단위
213-TS
214-TS
215-TS
216-TS
Width(W)
m
4.6(2.04)
4.6(2.04)
4.6(2.04)
4.6(2.04)
Length(L)
m
13.1
14.1
15.1
16.1
Climb(L1)
m
8.3
8.3
10.3
10.3
Flat(L2)
m
4.8
5.8
4.8
5.8
Storage Statement
m
7.8 x 3.7
8.8 x 3.7
9.8 x 3.7
10.8 x 3.7
Climb Angle
degree
8.0~10.2
8.0~10.2
5.8~7.8
5.8~7.8
Net Weight
kg
4300
4700
4900
5300
Capacity
kg
13000~15000
Adjusting Height(H)
mm
1250~1750
Height Operating System
Manual landing gear System (Option : Auto System)
Tire Shape
¢420 x 150w Solid Tire (Attached wheel stopping tool)
Sub Support
Gaksan M50 x 330L Screw
Body Material
SS400
Slope Road Material
Special Non-slip Metallas
Flat Plate Material
Galvanized Grating + CH.PL
LIP Material
Galvanized CH.PL
Stepping Material
Galvanized CH.PL
Bumper
Preventing vehicle friction Bumper 4Set attached
Tool Box
Tool Box Installation and Provision tools required
Paint
Epoxy / Urethane Painting (other colors)
MODEL Select : Select considering work environment (Capacity and load capacity of forklift, work site, product feature, safety, convenience)
The above dimensions are standard specifications for typical tasks, and additional specifications can be custom-ordered according to tasks to be performed on-site.
The above dimensions can be changed without prior notice due to various reasons such as product quality improvement, etc.