product
General Dock acquired ISO 9001 Certification
CE Mark acquired (first in the industry)
RAMP
>
RAMP
>
Deck Ramp
Deck Ramp
Fixed Type Deck Ramp
A Ramp connecting the ground and the deck enabling forklifts to go up and down the deck.
There are two medels, the on is a fixed tpe and the other is a mobile type movable to any place wanted.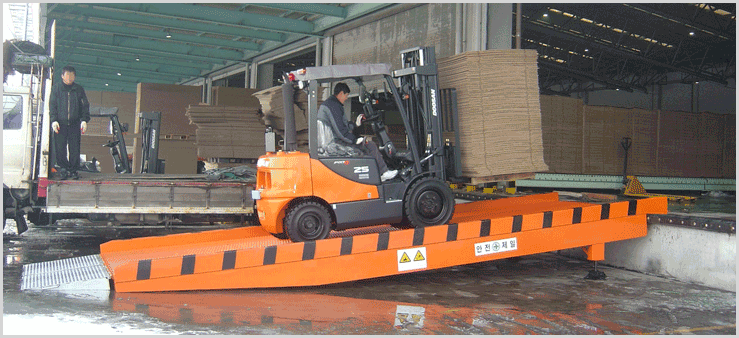 Appearance drawings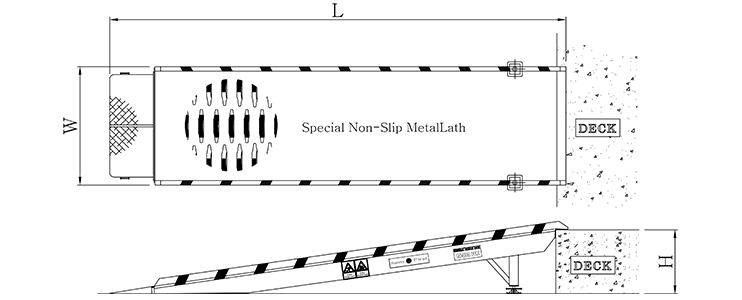 SPEC
CRITERIA / MODEL
Deck Height(L)(mm)
Length(L)(mm)
Width(W)(mm)
Climb Angle(°)
Net Weight(kg)
Capacity(kg)
GDR-6
800
6000
2000~3000
7.6
1500
11000
GDR-7
950
7000
2000~3000
7.7
1800
GDR-8
1100
8000
2000~3000
7.8
2100
GDR-9
1250
9000
2000~3000
7.9
2400
GDR-10
1400
10000
2000~3000
8.0
2700
MODEL Select : Select considering work environment (Capacity and load capacity of forklift, work site, product feature, safety, convenience)
The above dimensions are standard specifications for typical tasks, and additional specifications can be custom-ordered according to tasks to be performed on-site.
The above dimensions can be changed without prior notice due to various reasons such as product quality improvement, etc.
1

2

3

4

5

6

7

8

9

10

11

12